Products
Stevia extract
Product name: Stevia extract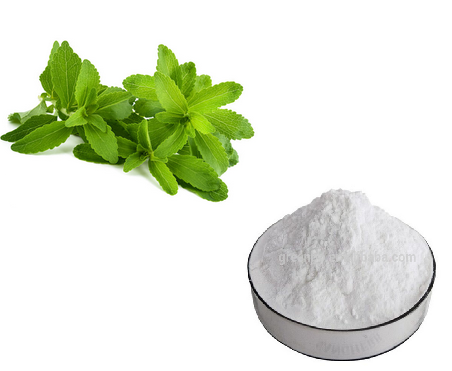 Part used:Leaf
Type: Sweeteners, Herbal Extract
Form:Powder
CAS NO:57817-89-7
Specification: RA 95%, 97%, 98%
Founction:
1). Health
Modern medical science studied that Stevia was beneficial to regulate Blood sugar,blood pressure, improve brain activity and helpful for Weight control, Skin care.
2). Green
Stevia is a natural sweetener extracted from Stevia leaves.
3). Low Calorie
Total caloric value from stevia is only 1/300 of that of cane sugar. It can be used in the making of low-calorie food and drinks. Stevia is especially suitable for patients with diabetics, obesity, high blood pressure, arteriosclerosis, dental cavities and so on.
4). Efficiency
Stevia is stable in its form and does not react to acid, alkali, heat and light. It does not ferment. It does not get moldy and deteriorate in quality if stored for a long time. As a sweetener in beverage and food, it can slow the growth of bacteria thus prolong the freshness quality guaranteed period. In addition, Stevia can reduce up to 60% in the cost of the production, with significant savings in transportation and warehousing cost.