Products
Baicalin
Product name:Baicalin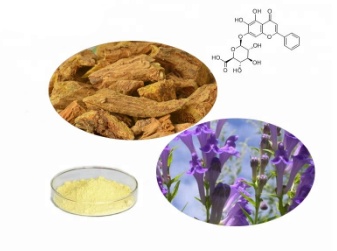 Part used:Scutellaria baicalensis Georgi root
Type:Scutellaria extract
Form:Powder
CAS NO: 21967-41-9
Specification: ≥95%,90%,85%,75%,20% by HPLC
Founction:
1.Used to treat respiratory infections, hay fever, and fever. It is also used for gastrointestinal (GI) infections, as well as livers problems including viral hepatitis and jaundice.
2.For kidney infections, Pelvic inflammation, and sores or swelling. It is also used for scarlet fever, headache, irritability, red eyes, flushed face, seizures, hysteria, nervous tension, and to relieve a bitter taste in the mouth.
3.The active ingredient in Baikal skullcap, baicalin, is used in combination with Honeysuckle Forsythia to treat upper respiratory tract infections. In combination with other herbs, Baikal skullcap is used to treat attention-deficit hyperactivity disorder (ADHD), prostate cancer, a lung condition called bronchiolitis, arthritis and hemorrhoids.
4.Also sometimes applied to the skin for psoriasis.